We Do Beautiful Things With Light
Extraordinary Outdoor Lighting
Permanent Holiday Lighting
Residential & Commercial Focus
Your Space Has a Bright Future
Are you ready to experience the joy of beautiful outdoor lighting? Our intuitive and creative exterior lighting solutions not only transform the appearance of your home or business, but also promote peace of mind, offering benefits for both mind and body. Just imagine being welcomed by your beautifully lit outdoor space, feeling the tranquility wash over you as you unwind after a long day or bask in the festive glow of your holiday lights. Unlock that potential with 4 Ever Lights.
Setting the Gold Standard in Exterior Lighting
The Problem:
Seasonal Decorating Stress
We provide customized, intuitive designs to showcase your outdoor space in the best light and offer a better and safer outdoor experience.
Our lifetime warranties on landscape and holiday lighting help you rest easy knowing your lighting is here to stay. Warranties range from 5 years to lifetime.
Beyond our long-lasting products, we offer high-quality installations that are built to last and designed to grow with their surroundings.
Three Simple Steps to Illuminate Your Home
Ready to experience the 4 Ever Lights difference yourself? The process is simple:
Call, email, fill out the form on our website, or message us directly on social media to get started. We'll call you back ASAP to chat about your project vision.
Our team will visit your home, assess your project, take measurements, and provide a personalized proposal tailored to your needs.
We'll expertly install your lights and ensure you understand how they work, so you can effortlessly enjoy your new outdoor experience.
Hear From Our Happy Clients
Matt was great to work with! He really knows his product and provides excellent customer service during the sales process, through installation, and afterwards.
I cannot put into words how AWESOME these lights are and how amazing Matt and his team are to work with. Thanks again to Matt and team for doing an amazing job bringing holiday cheer to our house!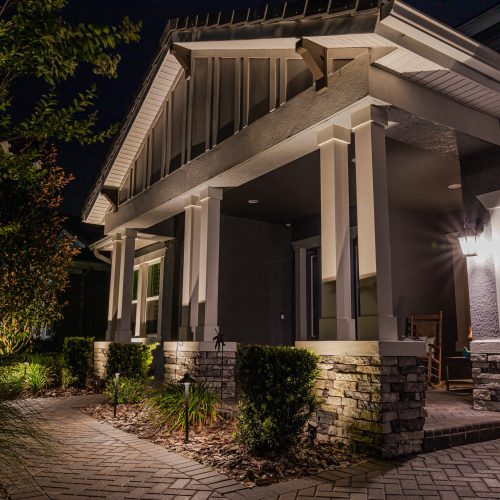 Lighting the Way to Exceptional Outdoor Experiences
It all started with one bright idea. In 2021, Matt Balcer was looking for a better way to enjoy outdoor holiday lights without the hassle and danger of putting them up personally every year. Finding none, he decided to provide his own solution, quickly expanding to include everyday outdoor lighting as he learned more about the industry. Since then, 4 Ever Lights has illuminated hundreds of homes in the St. Louis area, sparking joy and serenity through our exceptional landscape and holiday lighting services.